SUPER DUPLEX FASTENERS... FAST.
Duplex and super duplex stainless steels have excellent corrosion resistance, combined with high strength, making them ideal for offshore applications and marine environments. Bolt King is a global exporter of duplex and super duplex bolting, and we continue to experience strong growth in this sector. Unlike our competitors, we source material exclusively from EU sources to guarantee customer confidence. We are able to offer very short lead times on both hot forged and precision-turned Duplex and Super Duplex threaded products, and would welcome your enquiries.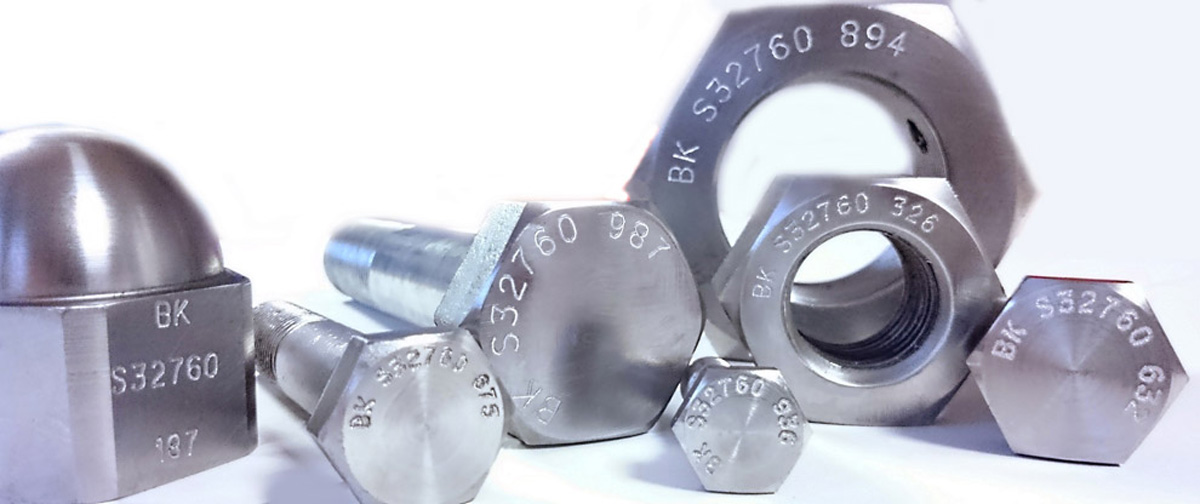 SCOPE OF MANUFACTURE.
Our newly expanded hot forging capabilities means that we are now delighted to offer:
Hot Forged Duplex Products; up to M39 / 1-1/2" Dia, up to 1100mm lg
CNC Machined Duplex Products; up to M100 / 4" Dia, up to 3500mm lg
DUPLEX STEELS:
| UNS | ASTM | EURO | ALLOY |
| --- | --- | --- | --- |
| S32205 | F60 | 1.4462 | Alloy 2205 (SAF) |
| S31803 | F51 | 1.4462 | Alloy 31803 |
SUPER DUPLEX STEELS:
| UNS | ASTM | EURO | ALLOY |
| --- | --- | --- | --- |
| S32760 | F55 | 1.4501 | Zeron 100 |
| S32750 | F53 | 1.4410 | Alloy 2507 (SAF) |
| S32250 | F61 | 1.4507 | Alloy 255 (Ferrallium) |
Duplex stainless steels are so called due to their two-phase microstructure. This consists of both ferritic and austenitic stainless steel. Advantages include:
Strength Duplex stainless steels have been found to be approximately 100% stronger than regular stainless steel grades.
Ductility - Duplex stainless steels have better ductility than ferritic stainless steel grades.
Stress Corrosion Cracking Resistance - Duplex stainless steels demonstrate excellent resistance to SCC in comparison to standard austenitics such as 304 and 316.
Super Duplex stainless steels are largely similar to Duplex stainless steels, with the principle difference being the addition of a higher quantity of Chromium. This further improves corrosion resistance and mechanical properties. If you would like further information or data-sheets, please do not hesitate to get in touch.
BESPOKE QUALITY PLANS FOR ABSOLUTE CONFIDENCE.
With over 100 years of experience amongst our principles, Bolt King is adept at formulating bespoke quality plans according to our customer's requirements. Please call us to discuss your traceability requirements on your super duplex bolting.